Dipli: from start-up to committed company.
19/10/2023
0 comments
The global economy is undergoing a major transformation with the emergence of the second-hand market. The numbers speak for themselves: the opportunity market is expected to reach $51 billion by 2023.

We believe in the constant evolution, total transparency and power of a dedicated team. Today, we invite you to explore the backstage of our company, our evolution over the years
The growing reconditioned market
At the global level, the refurbished market will represent in 2023 more than 330 million smartphones, valued between 60 and 70 billion euros. The second-hand clothing market will surpass that of fast fashion in 2028. It now sells 3 used vehicles for a new vehicle. Repairing your washing machine is 2 tons of saved material needed to make a new one. A used smartphone is 70 metals that are avoided in disastrous human and environmental conditions.
More generally, buying a used item is on average 200 kg of CO2 preserved. France is one of the pioneers of the second hand in Europe.
This growth is due to several factors, including :
The rise in the price of new electronics, which makes refurbished products more attractive.
Consumer awareness of the environmental impact of the production of electronic products.


According to the latest ADEME study, 1 out of 3 French people has already bought reconditioned. A refurbished device is on average 8 times more virtuous than a new device, the demand is also democratized among professionals concerned to implement actions for their CSR strategy.
The reconditioned market has become an important market in France. It helps reduce e-waste and promote the circular economy.
The birth of Dipli
Our story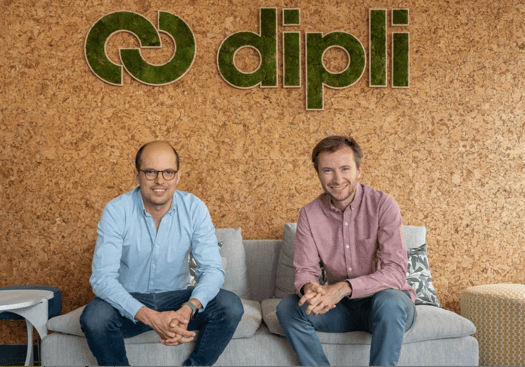 In 2016, Tanguy and Reynold, two entrepreneurs passionate about technology, decided to launch Agora Place, which became Dipli in 2022, a fullfilment platform that simplifies the supply chain of used products.
But then what were their motivations for giving birth to Dipli?
The two founders spent more than 10 years managing consumer electronics remanufacturing companies. During this experience, they faced recurring problems, including :
Supplier quality: it is difficult to find suppliers of used products of constant quality.
Shortage of stocks: used products are often rare and difficult to find.
Transaction risks: used product transactions can be risky, due to the possibility of fraud or product defects.

To meet these challenges, Tanguy and Reynold have developed a platform that centralizes the entire supply chain of used products. Dipli allows companies to find quality second-hand products, manage their stocks and carry out transactions safely.

Our challenges
In our quest to shape a more sustainable future, we are committed to ambitious challenges such as :
🍃 Developing the circular economy :
We believe that the circular economy is the key to a more sustainable future. By reducing waste, minimizing the use of raw materials and extending the life of electronic products, we can help protect the environment and reduce our impact on the planet.
🌍 Democratizing access to high-tech products for all :
We believe that everyone should have access to high-tech products, regardless of their budget. By offering quality refurbished products at affordable prices, we can make high-tech products more accessible to all.
💥 Become the go-to expert in product lifecycle optimization :
We are committed to becoming the leading expert in product lifecycle optimization. We want to help businesses and consumers reduce their environmental impact by extending the life of electronic products.
Who are we really ?
Our values: the foundation of our company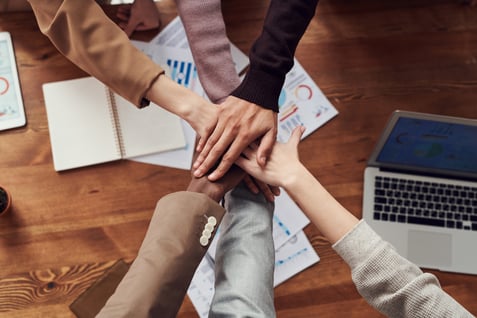 In addition to our challenges, we have defined a set of values that guide our actions and decisions. These values form the basis of our corporate culture, enabling us to work together harmoniously and efficiently.

We operate as a team, a tribe. Everyone has their own role, but they all complement each other.


We act fun but stay sharp
We dedicate ourselves to our tasks in a good atmosphere.
We attach a great deal of importance to respecting each individual's personality, and to remaining benevolent.
We are committed to circular tech
There's an ecological awakening. Everyone wants to make a positive and lasting impact through their work !
Our team of Diplers
Our website is Dipli's showcase, but it's our teams who bring our vision to life. So, who are the strong links in our company? Who are the people shaping our future? We'd like to introduce you to some of the behind-the-scenes players who work tirelessly to make Dipli the benchmark it is today, through a few videos.
Meet Lucylle, our Head of Communication & Marketing, who orchestrates content and campaigns to propel Dipli to new horizons. Alongside her, a talented team works in harmony to propel Dipli to new heights in the world of electronics and the circular economy.
We invite you to meet Martin, our Head of Growth, who is at the helm of this exciting company, orchestrating our development strategy with brio. He is supported by his team, with whom he works hand-in-hand to open new doors and stimulate our expansion.
You're about to explore the portrait of our Marketplace Manager, Clémence, who is in charge of the meticulous management of our marketplace operations. Alongside her, a team of professionals ensures that our marketplace runs smoothly, providing a reliable platform for the industry's needs.

Our commitments
We are deeply committed to making an impact on high-tech products. We share this passion with a team of inspiring partners and players in the circular economy. We are proud to be a member of these organizations :
Our plans for 2023

Pour 2023, nous prévoyons de poursuivre sur notre lancée pour augmenter notre impact :
+ 500,000 products will find a second life on Dipli
+ 38,450 tonnes of raw materials saved
+ 2+ 27,875 kilograms of WEEE production avoided
Our ambition for the future is to become the world's leading player in the supply chain of second-hand electronic products. We are doing everything in our power to achieve this.
---
Dipli, the leader in refurbished high-tech products for professionals
Take-back and returns management, reconditioning and omni-channel distribution: Dipli covers and simplifies every stage of the circular economy. Our mission: to reduce the impact of technology on the environment and build the refurbished market of tomorrow.
More informations : www.dipli.com