A refurbished smartphone is a second hand device that has been processed by a specialist professional, in accordance with strict specifications, and is made available for resale with custom packaging and a warranty. More than 35 checkpoints, depending on the models.

In France, more than 12,000 used and refurbished smartphones are collected and purchased from various sources on a daily basis. Are you a purchaser of refurbished devices and are interested in finding out about the origin of the products you are ordering? This may be with regard to legal issues, VAT or to reassure your customers. Then this article is for you. Do you know where refurbished smartphones come from?


1- Telecoms operators (in France and in the EU)

These days, nearly every telecoms operator (SFR, Orange and even Bouygues) has an online or in-store mobile-purchasing service aimed at private individuals. Depending on the condition of the device, it will be either recycled or refurbished. Operators therefore work with companies that sort, test, clean and, if necessary, repair phones with a view to making them available for sale on the second-hand market.

Operators are the main source of supply to the used device market in France, with major operators generating an average of 250,000 mobile trade-ins each year.

These programmes are often highly incentivising, as they are combined with sales offers with a view to generating customer loyalty.

These collection methods promote circular economy and encourage new consumption patterns. The main advantage of a used smartphone sourced from an operator? It has been purchased from a private individual, which means that VAT can be applied on the profit margin for all subsequent players within the value chain.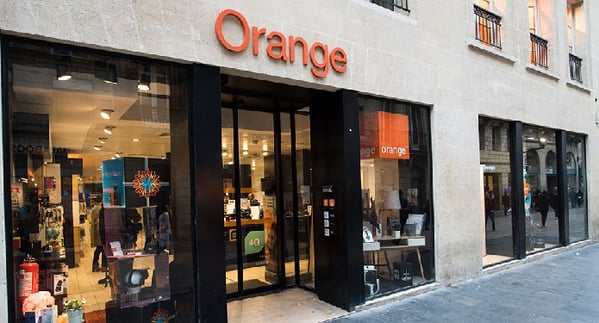 2 - Online trade-in sites

Like telecoms operators, online trade-in sites (Easy Cash, Rebuy, E-recycle, Fonebank, HelloZack, etc.) are very active and provide a large supply of traded in mobile phones to private individuals, which are as such eligible for VAT on the profit margin (provided the initial customer purchased his/her device within the EU). They then refurbish the units themselves, in order to make them available for resale, or alternatively call upon specialist companies. The shift towards online trade-ins is very popular in the United Kingdom, with Mazuma a key player, for example.


3 - Manufacturers

Smartphone manufacturers (Apple or Samsung) buy back used devices via their in-store trade-in service or website. Old handsets are assessed, and once deemed eligible, they are repurchased by the manufacturer in return for a shopping cart discount or purchase credit. They are then processed by the manufacturers themselves, or by subcontracted refurbishers. For example, recovered and refurbished Apple products are labelled "CPO" (Certified Pre-Owned). These products are refurbished using 100% original Apple parts.


4 - Company stock

Companies that provide their employees with electronic devices (tablets, computers, telephones...) are often required to modernise their stock of devices by replacing them with new models after 24 months. The stock of devices held by these companies is then bought back by their DSP-type (digital service provider) managers, who entrust them to processing centres to undergo a complete sorting and testing procedure, prior to being refurbished for reuse. This flow of products often takes the form of high-volume, homogeneous batches, made available for sale on the used devices market, under the classic VAT scheme.


5 - Withdrawals or damaged boxes

In France, the consumer cooling-off period is 14 days after purchase. During this time, customers can change their minds and return their product to the manufacturer/distributor from whom they purchased it. As a result, the product may have been opened or used for a short time. Because a product that has already been opened cannot be sold as new, brands will attempt to recover value by selling to specialist players. These stocks are generally sold as Grade A, and sometimes in their original boxes.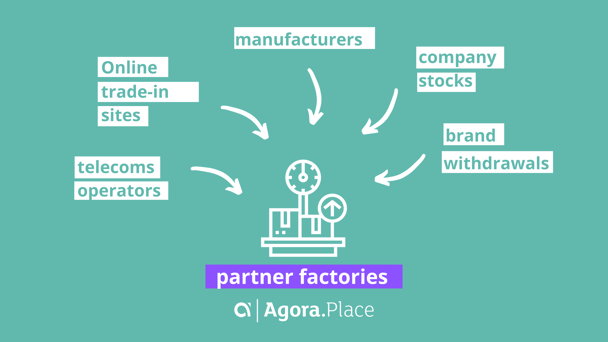 Agora Place partner factories
Each of our partner factories has been carefully selected. Used mobile phones or other refurbished devices must be traceable, and must have been tested, repaired (if necessary) and cleaned prior to being made available for resale. Finally, thanks to our network of partners and available databases, we know exactly where each used or refurbished smartphone sold on Agora Place comes from.

To view the list of quality criteria that our partners adhere to, click here.
Do not hesitate to contact us if you have any questions.