Refurbished smartphones now account for about 10 to 15% of smartphone sales in France. A refurbished smartphone is a used product that has been treated by a professional specialist according to strict specifications. More than 30 control points depending on the model. These devices are guaranteed and are then resold between 30 and 50% cheaper than a new phone depending on its aesthetic grade (battery condition, scratches, etc).

You are a high-tech professional (wholesalers, retail/ e-commerce resellers, professional integrators, rental companies and mobile insurers) and you are looking to know the best-selling refurbished smartphones? The brands most sought after by consumers of refurbished devices ? We provide you with our data to make you discover the essential products of the moment, not to be missed !

Which smartphones are making the best sales with professionals on our platform? Let's start with the top 20 best sellers of refurbished smartphones online in France.
1/The best selling smartphones on Dipli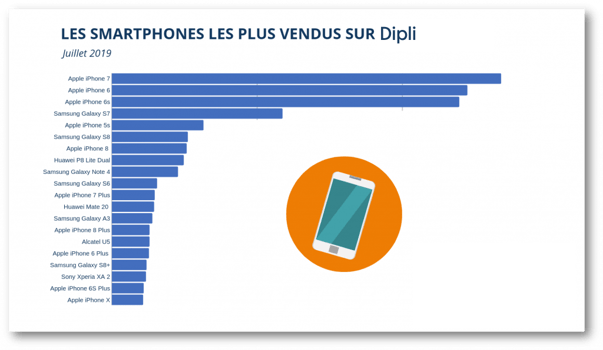 The star of sales is undoubtedly the iPhone! And the 7 now takes the lead in the sales of refurbished smartphones. While the refurbished iPhone 8 arrives for the first time in the top 10 and the iPhone X in the top 20. The presence of the iPhone 6 and 5s reconditioned in this ranking allows buyers to access the apple brand at a lower cost.

However Android devices are not left out! Samsung and Huawei share places with models such as the Galaxy S7 at the top of the top 5, the Galaxy S8 followed by the Huwai P8 lite dual.

This top 20 has the advantage of cohabiting both recent and older devices sometimes difficult to find on the new market (Alcatel U5 or iPhone 5s).
2/ The top 5 most bought brands on Dipli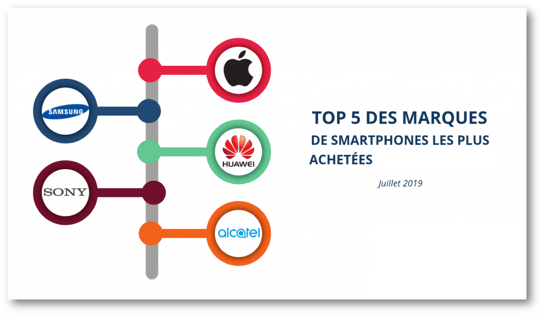 The podium of this ranking of the most purchased refurbished smartphone brands by professionals in the sector reflects well the trends of the current market. For the moment, the fall of the brand Huawei in nine, is not felt in the market of the second life.

Sony and Alcatel stand out with low-cost products and a different target audience.
Apple
Samsung
Huawei
Sony and Alcatel stand out with low-cost products and a different target audience.
3/ The average price of best sellers sold on Dipli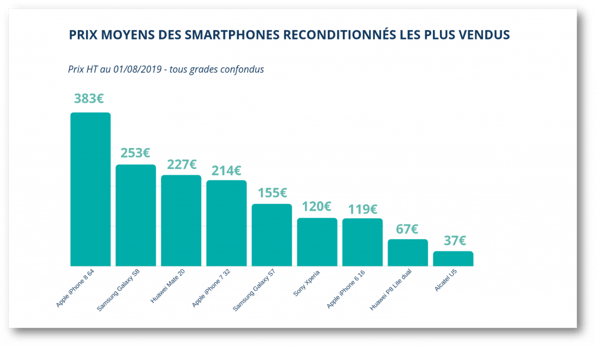 The advantage of offering a complete catalog? Have a wide price panel that meets all types of needs. Still too many resellers neglect pro-Android customers on their range of refurbished products. On Dipli, the products allow you to meet the needs of all your customers, your showcase is suitable for all wallets.
---
Dipli: the platform for high-tech product wholesalers
Dipli simplifies high-tech purchases for resellers (retail/e-commerce) and professional integrators, lessors and mobile insurers. By centralizing the functions of ordering, invoicing, parcel tracking, and after-sales returns, the purchasing experience of pro buyers is fully digitized.
More informations : dipli.com
*Price to 19/09/19